The global ceramics market size was valued at USD 133.20 billion in 2018 and is projected to reach USD 243.12 billion by 2026, exhibiting a CAGR of 8.0% during the forecast period. The growth in part can be attributed to rising demand for ceramics in several key industries.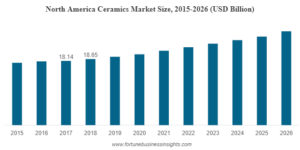 In Building & Construction industries, ceramics are used primarily in the production of tiles, brocks, pipes, and sanitary wares. It is a highly desirable product due to its toughness, hardness, electrical resistance, and chemical inertness.
The demand for ceramics is also increasing in industries such as medical and automotive. In medical industry, biocompatible ceramics are increasingly used in surgical bone implants, tooth replacement, and also the reconstruction of fractured bones. In automotive industry, ceramics can be found in sensors, catalytic converter substrates, and other electrical and mechanical components. The variety of applications is endless.